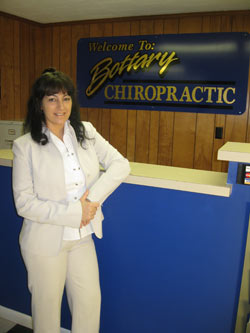 Dr. Diane Bottary is the owner of Bottary Chiropractic. She received her Bachelor of Science degree in Biology from the University of Massachusetts in Boston. She attended Life University in Georgia where she attained her Doctorate of Chiropractic. Dr. Bottary became a member of the faculty at Life University following her graduation in 2000. As a faculty member of the radiology department she helped to empower each student with the education, skills and values needed for career success.
Dr. Bottary is a former Massachusetts EMT and currently holds a certificate as a Chiropractic Sports Physician. She is accredited with this advanced certification by American Chiropractic Board of Sports Physicians (ACBSP).
Dr. Bottary has provided chiropractic care as a member of the medical team during the 2006 US National Indoor Track and Field Championships. She is also an Advanced Cardiovascular Life Support provider for the American Heart Association. She has been a Basic Life Support instructor for the American Heart Association since 1996.
Dr. Bottary enjoys lecturing in the community on various health topics such as nutrition and stress reduction.
Dr. Bottary has been serving Massachusetts for over 7 years. Her patient clientele ranges from pediatric to geriatric, wellness care to auto injury. Dr. Bottary has been able to help many people improve their quality of life; she can help you too!!